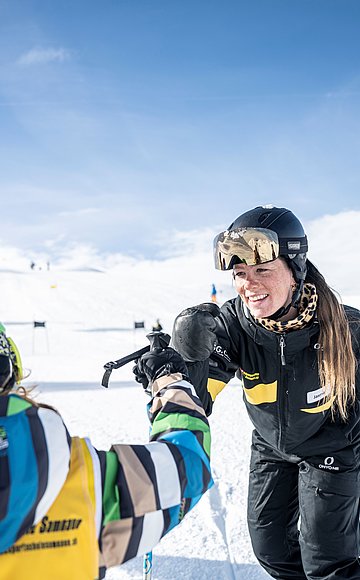 Swiss Snowsports School Samnaun
Children's ski course in Samnaun
Learning to ski is easy with Penguin BOBO!
The Hotel Nevada in Samnaun has its own in-house ski school - the Swiss Snowsports School Samnaun. The children's courses take place in the heart of the Silvretta Arena Samnaun/Ischgl.
Below you will find the most important information at a glance:
What offers are there?
Private and children's group courses for beginners, advanced and expert skiers
Half-day and full-day offers in children's ski courses
Pick-up and drop-off service to the Hotel Nevada
Lunchtime supervision from 12:00 pm to 1:00 pm
From what age can children attend classes?
Children from the age of 3 can take part in the ski courses.
For the snowboard courses, a minimum age of 7 years is recommended.
In the private course, children may also be younger.
When do the courses take place?
The ski group courses take place daily from Sunday to Friday, there are no ski group courses on Saturdays (exception: Sat. 30.12.2023 and Sat. 30.03.2024).
The snowboard group courses take place daily from Monday to Friday, there are no snowboard group courses at the weekend (exception: 30.12./31.12.2023 and 30.03.2024/31.03.2024).
The private courses take place daily.
What are the course times?
Group courses: 10:00 am - 12:00 pm and/or 1:00 pm - 3:00 pm.
Private courses can be started at any hour. For children, we recommend a course duration of 2 or 3 hours daily.
Where do the classes take place?
All group courses take place on the perfectly groomed slopes in the Skiing Area Samnaun/Ischgl.
The children's groups meet at 09:45 at the Kinderland on Alp Trida (right next to the Milolift N3).
Private lessons take place either in the ski area or at the Musella lift in Samnaun Dorf.
What does a course cost?
Prices vary according to course type and duration. You can find more information on prices in the online shop.
How do I book the course?
You can book the ski course directly at the reception of the Hotel Nevada, at the ski school office in Samnaun village or in the online shop.
I don't know if my child is having fun.
Book a trial course and take the opportunity to get to know the ski school together with your child! The trial course can be extended individually if you like it.
Where can I find more information?
The best place to visit is the homepage of the Swiss Snowsports School Samnaun: www.schneesportschulesamnaun.ch.
How can I contact the snow sports school?
The ski school office is located in the El-Rico building in Samnaun Dorf.
Phone: +41 81 868 55 11
Mail: info(at)schneesportschulesamnaun.ch
Instagram: @zegg_skischule_samnaun
Facebook: Schweizer Schneesportschule Samnaun